Some links in this post may be affiliate links. This means if you click on the link and make a purchase, I may receive a small commission at no cost to you. But rest assured that all opinions remain my own. You can read my full affiliate disclaimer here.
These days, you can order anything you want online and get it delivered to your house in days or even hours. Thanks to the best cash back apps like Ibotta and Rakuten (formerly Ebates), you can also save money every time you shop online.
Some of the best cash back apps even award you for purchases at brick-and-mortar stores, as long as you have a receipt. And using these cash back sites can be well worth the effort, since their rewards seriously add up.
I've already received over $150 back since I started using Rakuten less than a year ago. If you're a savvy shopper looking to save on money you're already spending, read on to learn how these cash back apps and browser extensions could help.
15 best cash back apps for shopping
Are you ready to stop leaving money on the table and start saving? Here are 15 of the best cash back apps for shopping in 2023.
1. Rakuten
Rakuten (which used to be Ebates until it was acquired by affiliate company Rakuten) partners with over 2,500 stores to give you cash back every time you shop. After creating your free account, you can earn cash in three ways.
Shop directly through the Rakuten website by heading to Rakuten.com and searching for a store. You'll automatically get cash back when you make a purchase.
Download the Rakuten Cash Back Button on your browser. This extension will notify you to activate your cash back when you're shopping at one of its partner stores. Plus, you can use it to apply promo codes. This is how I like to use Rakuten, since I don't have to change my shopping habits at all. Not every single store I visit partners with Rakuten, but it's always a nice perk when that notification pops up that I can save money on my purchase.
Get the Rakuten app, which is available for both iPhones and Android. If you tend to shop on your phone more than your computer, the Rakuten cash back app would be the way to go.
Once you start earning money with Rakuten, you can get paid via check or Paypal every few months. What's more, new members also get a $10 welcome bonus after spending their first $25 at a partner store within three months of opening an account.
And if you want to share the savings love, you can also get a $25 referral bonus when your friends or family open an account and make their first purchase. Thanks to Rakuten, you could be getting deep discounts on your shopping with very little effort on your end.
2. Dosh
Dosh is a cash back mobile app that's incredibly easy to use. All you have to do is download the app and link one or more credit cards to your account. (Note that linking your first card will automatically earn you $5.)
Then, Dosh will give you money back when you use that card at one of its partner stores, restaurants, or bars. What's unique about Dosh is that it doesn't only work at big chain stores; it also offers cash back at local spots.
If you allow the app to access your location while you're using it, it will show you which stores, restaurants, and other spots in your area are offering cash back. With Dosh, you don't have to do much to earn cash back.
Just live your life the way you usually do, and the app will notify you if you earned cash back for your dinner date or visit to a local brewery. Plus, you'll get $5 for each friend you refer.
Once you have a minimum of $25 in your account, you can redeem your cash via Venmo, Paypal, or direct deposit.
3. BeFrugal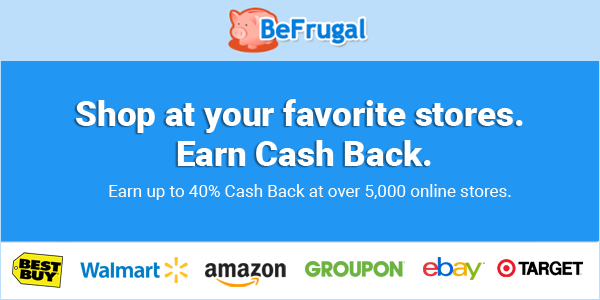 Like Rakuten, BeFrugal partners with thousands of stores to give you cash back on your purchases. With your free membership, you can earn up to 40% cash back with your free BeFrugal membership at more than 5,000 stores. Along with these rebates, BeFrugal also collects thousands of exclusive coupons and promo codes.
And BeFrugal is so confident its promo codes are up to date, the company will give you $5 if you find one that doesn't work. Plus, BeFrugal will match other cash back sites to make sure it's giving you the best deal.
If you find another site with a higher rate, BeFrugal will match that rate plus an additional 25% back. New members get a welcome gift of $10, and you can get $10 for each friend you refer after your friend earns $10 or more in cash back within the year.
You can redeem your cash back via check ($25 minimum), Direct Deposit (no minimum), or Paypal (no minimum). Or you can use it to buy a gift card, which often comes with a 1% to 6% bonus.
Start earning cash with BeFrugal by shopping directly through the website, adding the BeFrugal button to your browser, or downloading the mobile app on the App Store or Google Play.
4. TopCashBack
TopCashBack remains one of the best cash back apps in 2023 because of its generous revenue-sharing policy. Unlike some other cash back sites, TopCashBack actually shares 100% of the commissions it earns with its members.
Instead of making money through referrals, TopCashBack earns revenue through ads and sponsors. That means it can offer some of the best cash back deals on the web. It will even match offers if you find a better deal elsewhere.
It's free to set up an account with TopCashBack and start earning. You can head to the website and browse deals, or download its browser extension or app to your phone.
Along with earning money back from TopCashback's more than 4,400 partner stores, you can also get $10 for each friend you refer (after they open an account and earn $10 payable cash back themselves).
5. SwagBucks
SwagBucks is another cash back site that lets you earn rewards in exchange for purchases. It partners with over 1,500 retailers. To date, SwagBucks has paid its users more than $327 million in cash back and gift cards.
You can use SwagBucks by shopping through its website or downloading its browser extension. With the extension, you'll see if a store is partnered with Swagbucks right in your Google search results, as well as how much cash back you can expect to earn.
But SwagBucks doesn't just pay you for shopping online. You can also earn Swagbucks rewards by,
Taking surveys
Watching videos
Signing up for offers with its partner merchants
Playing games online
Referring friends
And other online activities.
You can redeem your SwagBucks rewards for cash via Paypal, donate your earnings to one of the company's partner charities, or redeem points for a gift card with Amazon or another store.
If you like taking surveys, playing online games, or doing other activities on the web in addition to shopping, SwagBucks could be a great way to earn money from your online hobbies.
6. Drop
Like Dosh, the Drop app offers rewards points when you spend money at one of its partners through one of your linked cards. Download the app, link up one or more credit cards, and then the app will take care of the rest.
You'll get points back on everyday spending you do at restaurants, Uber rides, or other expenses. You can also browse the app for special offers to maximize your savings (just don't spend extra for the sake of saving money!).
You can also earn $5 for referring friends with your special code. If you use my referral code 0k585, for instance, we'll both get $5 when you link your first card.
7. FreeBird
Freebird is similar to Dosh and Drop, except it rewards you for a specific activity: riding with Uber or Lyft. This app offers cash back on your rides to specific bars and restaurants in your area, and you can use it in conjunction with any credits or discounts you're currently getting in your Lyft or Uber app.
All you have to do is link a card and then book your ride through Freebird. It gets its rates directly from Uber or Lyft, so your ride will cost the same — but then you'll get the added perk of cash back afterwards.
Feel free to use my promo code z6118 for $5 off each of your first two rides (for a total of $10 off).
8. Ibotta
Ibotta is a cash back app that saves you money when you shop online or in a brick-and-mortar store. Like Rakuten and Be Frugal, Ibotta partners with thousands of merchants to give you a percentage of cash back on your purchases.
But unlike Rakuten, you must choose your offer through Ibotta before you shop. You can't make a purchase at one of its partner stores and then redeem your discount later.
Although Ibotta has a website, the main way to use it is through its mobile app, available for iOS and Android. After downloading the free app, you can choose stores you typically shop at and browse the various offers.
If you find an offer you like, you can redeem it by,
Scanning and uploading your receipt after you go shopping
Shopping through one of Ibotta's partner's apps
Connecting a store loyalty card from one of its partners
Although Ibotta requires a bit more effort from you than Ebates does, the advantage is that it offers savings at brick-and-mortar stores. So if you go grocery shopping or make a big purchase at Home Depot, you can then upload the receipt for cash back.
Ibotta offers a $20 welcome bonus after you redeem your first 10 offers. And if five of your friends sign up using your referral code within your first month, Ibotta will gift you an extra $50.
Once you have at least $20 in your account, you can cash out via Venmo or Paypal or purchase a gift card through the app.
9. Paribus
Have you ever bought a product on Amazon or booked a hotel only to find the price dropped the next day? With a Paribus account, you'll actually get refunded if an item's price drops after you purchased it.
Paribus monitors prices at major retailers, such as Amazon, Target, and Walmart, as well as hotel room rates found on Expedia, Priceline, Booking.com, and other major travel and hotel sites.
When you open an account, you also let Paribus track your confirmation emails so it can search for lower prices. If it finds a price drop, Paribus will let you know and help you get a refund.
According to the company, it has found over $29 million in savings for its users to date.
10. RetailMeNot
RetailMeNot is another of the cash back apps that gives you money back after you make a purchase. Simply create your free account and browse through thousands of deals with its partner companies.
You can also use RetailMeNot to find promo codes and coupons you might not find elsewhere. To earn cash back, simply click on an offer and start shopping.
As long as you go through the site (and don't have an ad blocker getting in the way), you'll automatically get cash back after you make your purchase. Alternatively, you can link a credit card to your RetailMeNot account to get cash back whenever you use the card, whether online or in-person at one of its partner stores.
Although RetailMeNot has some great deals, it does come with a few downsides. One is that your cash might take up to 45 days after your purchase to show up in your account. The second is that you can only redeem your cash via Paypal, so your cash out options aren't as flexible as they are with some other cash back apps.
And third, RetailMeNot doesn't offer a sign-up bonus to new members or a referral bonus for getting friends and family to sign up. So while it can be a useful money-saver, these cons are the reason RetailMeNot doesn't appear at the top of the list for best cash back apps in 2023.
11. Checkout 51
If you're looking to save on groceries, the Checkout 51 app can help. This app has thousands of cash back deals on products at a variety of major grocery stores and pharmacies.
Simply download the app and look for offers in your area. After buying any of the featured products, upload your receipt to receive the deal.
After you redeem your first purchase, you can also get a referral code and earn $5 for each person that signs up.
12. FetchRewards
FetchRewards is another site that offers points which you can redeem for gift cards. But with FetchRewards, it doesn't matter where you shop so much as what products and brands you buy.
You can upload receipts from any grocery store, convenience store, pharmacy, liquor store, or the like. If the app sees that you bought a product from one of its partner brands, it will award you points.
You can then redeem your points for a gift card at a clothing store, tech store, charity, or dozens of other options. That said, earnings are pretty small — typically just $0.25 to $2.00 per offer.
So unless you're looking to maximize your savings, the points you get might not be worth the effort. If you do decide to sign up, feel free to use my referral code CB3AU and we'll both get 2,000 points.
13. ShopKick
ShopKick doesn't technically give you cash back for your purchases, but it does let you earn rewards points called "kicks," which you can then redeem for gift cards at stores like Best Buy or American Eagle .
You can earn kicks by making online purchases at one of its partner stores or watching videos on the ShopKick site. According to ShopKick, most new users earn enough kicks to redeem a gift card within one week (250 kicks = $1, 500 kicks = $2, and so on).
You'll also earn extra points for referring friends to the app. For instance, you can use my code FREE603124 and we'll both get 250 kicks ($1).
14. OpenTable
You might have used OpenTable to make restaurant reservations, but did you know you can earn "Dining Points" for using this service? When you make your reservation, you'll be notified if the restaurant is offering Dining Points. You can then redeem these Dining Points toward your next restaurant bill or as an Amazon gift card.
The value of your rewards points will vary by restaurant, with some giving out $10 for 2,000 points while others award $20 or even $25 for the same number. If you go to restaurants a lot, this program could be an easy way to earn cash back when you dine out.
15. Upromise
Upromise is different from other cash back sites, since its mission is to help users pay for college and pay off student loans. This company partners with various stores, restaurants, and other merchants to bring you rebates on your shopping.
Once you've earned enough in your Upromise account, you can contribute your cash into a college fund or a 529 plan or put it toward your student loans. You also have the option to redeem your cash as a check and deposit it into your bank account.
While Upromise can work like other cash back sites, it likely mainly appeals to those looking for creative ways to budget for college or pay off their student debt.
Earn cash back on money you're already spending
These cash back apps offer an easy way to earn money back on your everyday shopping. But make sure you don't suddenly start spending more for the sake of saving, or these cash back apps will hurt your finances more than they help.
As long as you don't go overboard when you see a sale, these apps can be a savvy way to get more cash in your bank account. Maybe you can even put that extra money into your travel fund and use it toward your next great adventure.